Sooooo I have a pretty irrational fear of spiders. I think I'm getting better, but the still scare me. It used to be that if I saw a spider in my bedroom, I would'nt be able to sleep until it was killed and flushed down the toilet (which is insurance that you really did succeed in killing it and it won't come back to life seeking revenge on you!). I'm trying to get over it. Most bugs don't bother me, but for some reason spiders do. Alot. I used to have a whole system that involved hairspray, paper towels and a vacuum. Don't ask.....
Friday, I was sitting at my desk working away on some shipping stuff for one of our clients and something in my peripheral vision got my attention. I think the only reason I noticed it was the contrast between it and the white kleenex it was crawling up. You guessed it! It was a spider. Not just any spider, but a black fuzzy one. Which was a decent size by the way. He was crawling into the tissue box. So I calmly and gingerly reached over to the box and flipped it over in one quick movement. He fell out of the box and onto the desk. I saw him and swooshed the box down to smash him.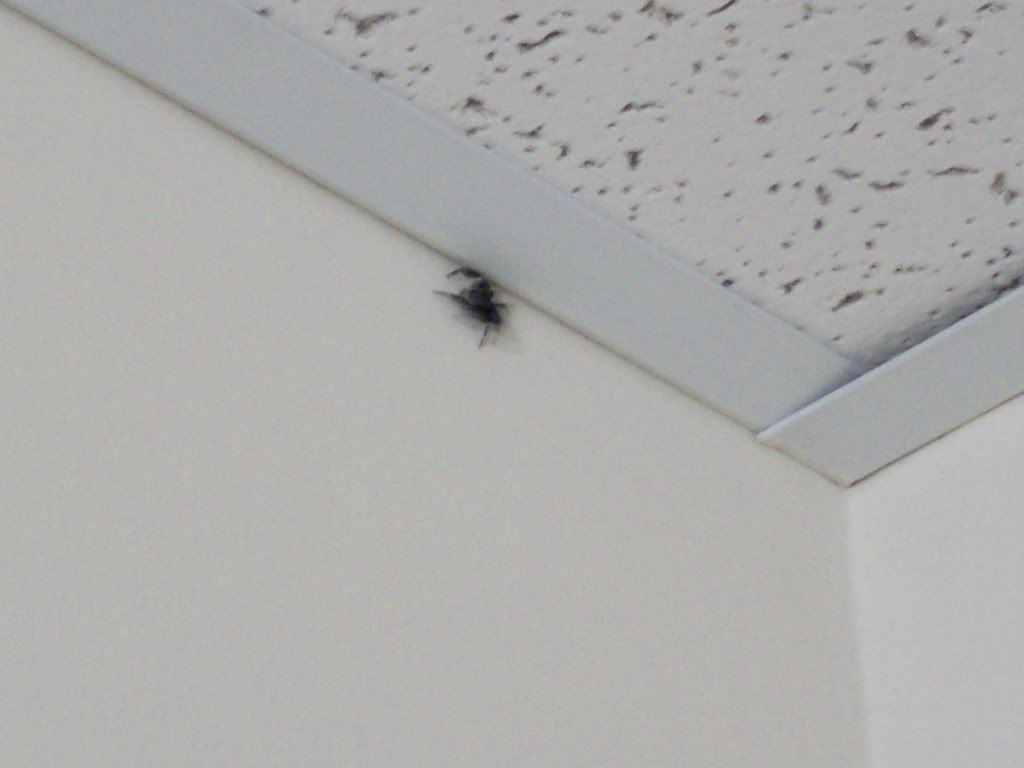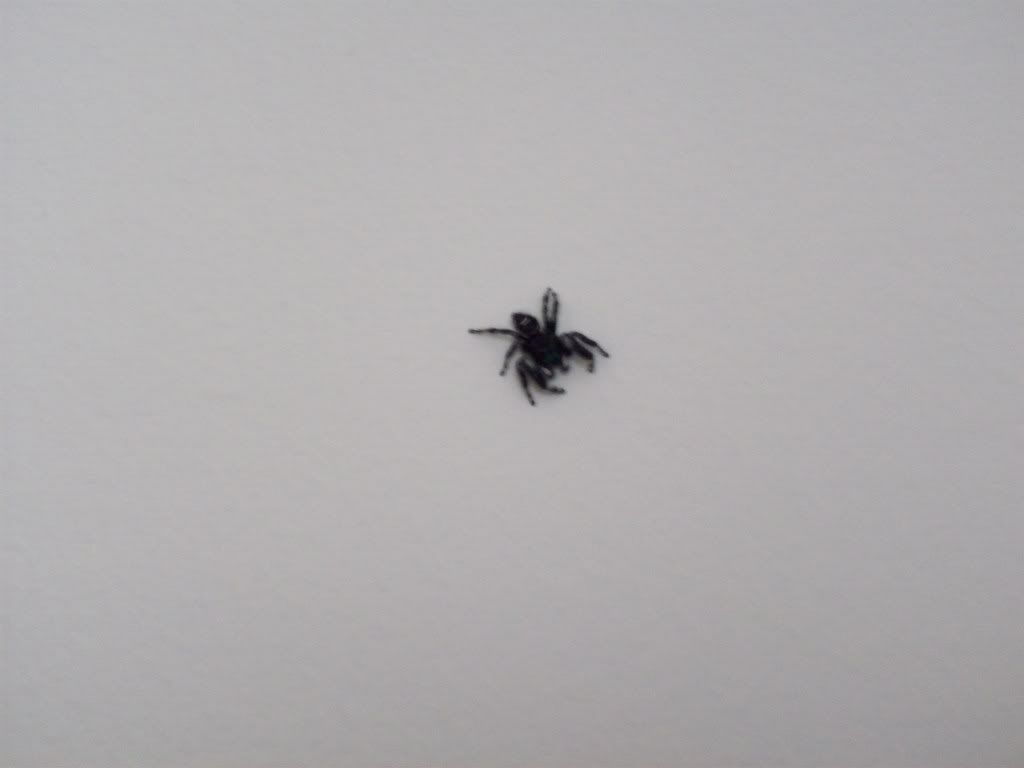 Oh course he is a smart spider and a quick one and scurried away. He was hiding on the edge of the desk. Every time he would peak his little self up a bit I would stop and look at him. It was like he had some heat sensors or something. If I were to move away from the desk he would come out of his hiding place but if I came back to the desk he would hide. I started to feel a bit bad about wanting to kill him. So I made a deal with him.
If he came out of hiding and let me take his picture, I wouldn't kill him.
He eventually came out but scurried up the wall and towards the ceiling making it VERY difficult for my shorty self to get a good pic. :( He tried hiding under one of the braces for the ceiling tiles but eventually came out. I kept calling to him, "Mr. Spiiiiddeerrrr, come out. I won't kill youuuu. I promise!" Unfortunately, for me (and you now ;) ) he wasn't really buyin' it. When he did finally come out, almost 45 mins later, he proceeded to hide behind a picture frame. Every time I would try to take his picture he would hide again. It became a game almost. Every 15 mins or so, I would ask him what he was up and try to take a good pic of him. He must have thought I was a complete nut job (like all of you are currently thinking). But it didn't stop me from talking to him or trying to get a smidge closer to get a better pic.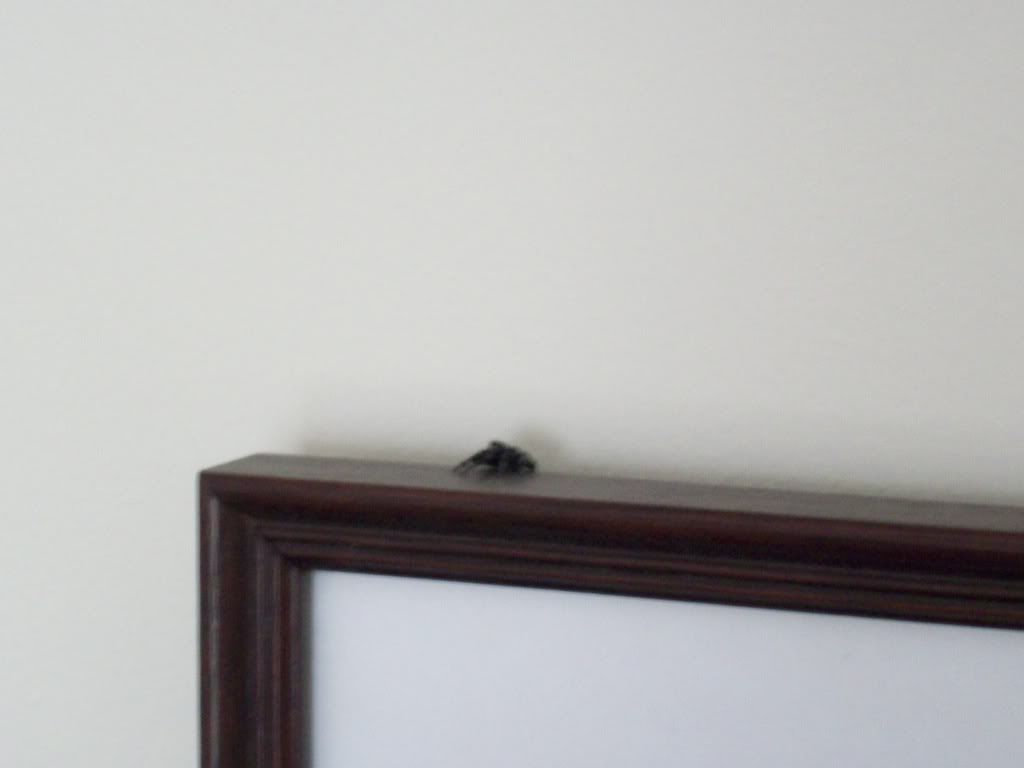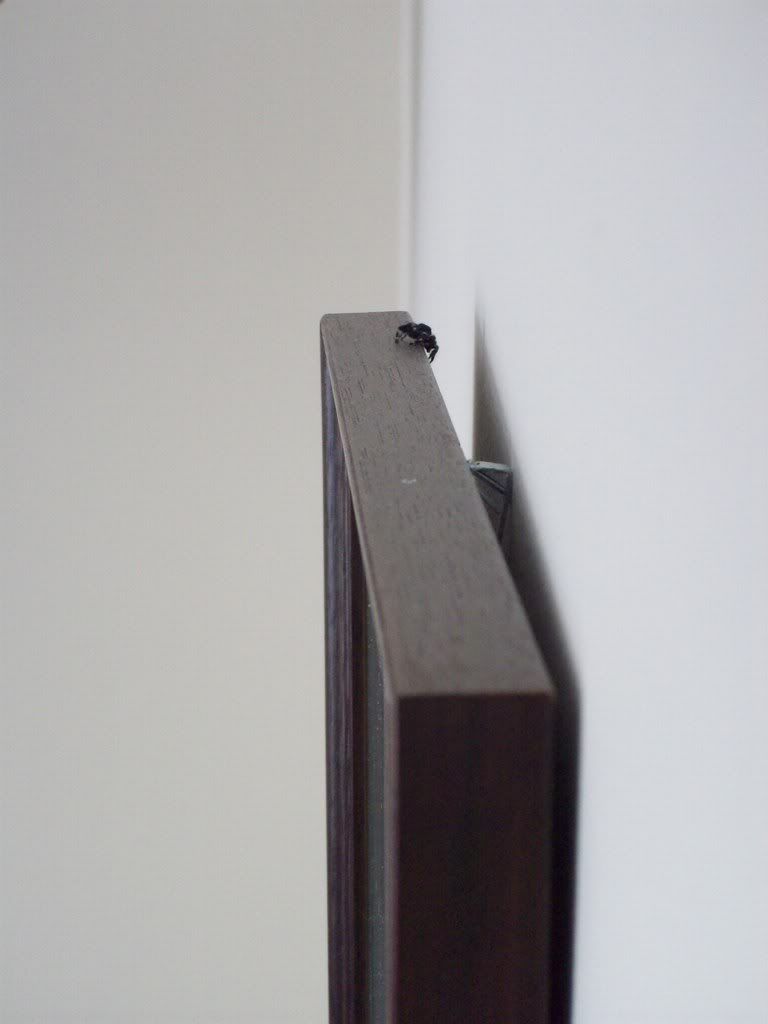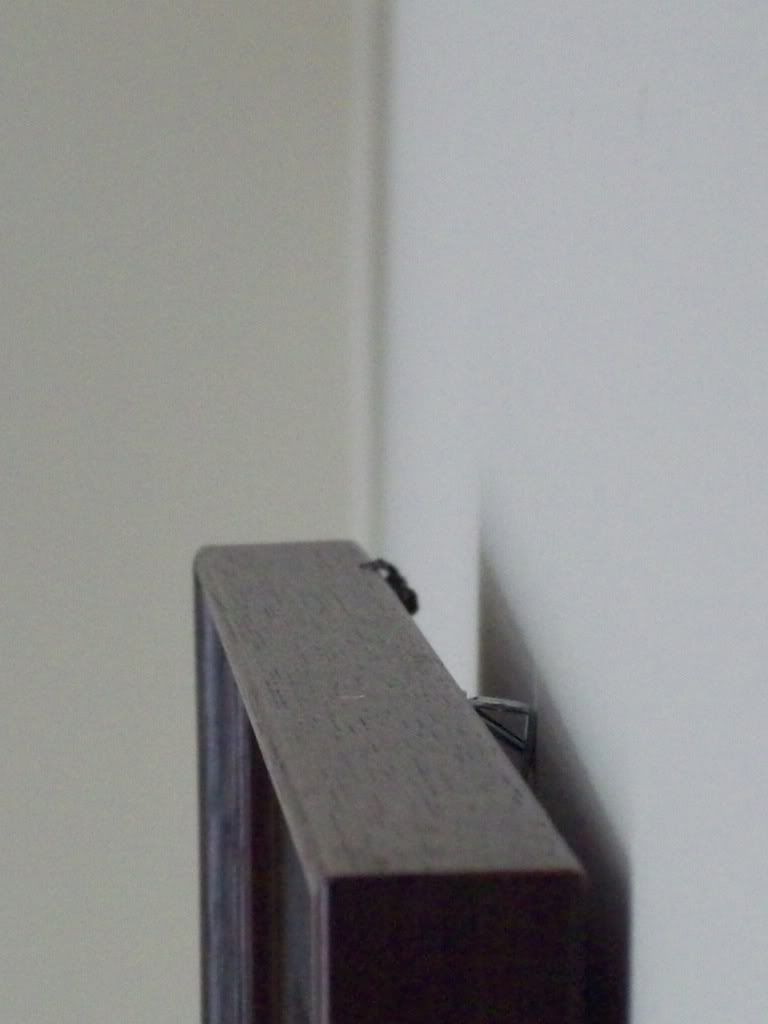 I mean seriously, have you every heard of such a camera shy spider!?!? I was in shock. I finally gave up and went home.
Let me tell you, I'm starting to get better at this not being afraid of spiders business. I can't say that I love them or would let a whole bunch crawl all over me (eewwww, now I
feel
like there are a bunch all over me!) but I'm at least trying to end my days as super spider killer. Anything is possible right!