Today I'm feeling like I can't deny it any longer. I'm sick! :( How unfair!!! I think I will still be out there tomorrow for the Reindeer Run, even if I can only walk it. So since I'm super grumpy from not feeling well, I don't want to get into anything for real today. ;) I will just sound whiny! All this talk of being sick made me wonder about the phrase, sick as a dog. Where in the hell did that come from? ;)
So in the spirit of my grumpiness I have selected the first listing I found for an explanation aka it may be complete craziness.
So this is what it said
:
The earliest known usage of "sick as a dog'' dates back to 1705. It has been suggested that the phrase originated from the fact that dogs, being domesticated, are the most common animal we've seen vomiting besides ourselves. Our intimate relationships with dogs have also allowed for many other "dog'' phrases like "every dog has his day'' and the straightforward "you can't teach an old dog new tricks.'' British English has sometimes employed similar phrases involving other animals - "sick as a horse'' and, yes, "sick as a cat'' - but "sick as a dog'' is the only choice in American English.
A surprising variant that has become popular in Britain in the past several decades is "sick as a parrot,'' which typically describes someone who is very disappointed or disgusted rather than physically sick. Parrots aren't especially known for being either sick or disappointed, and no one knows exactly how this phrase originated. (One theory traces it to a famous Monty Python sketch involving a dead parrot.) It was first recorded in 1979, and it has been popular in the years since, especially among British athletes describing their extreme disappointment over losing a match.

So there you are! I'm sure your lives are so much more fulfilled with this knowledge. ;)
______________________________________
Today is World AIDS Day. And as I would normally provide you with a myriad of links to go check out, I really only have a couple of things to say about this:
1. DO NOT GET AIDS. Now I know this seems super obvious but clearly, this is an epidemic so therefore it would appear to me that some people still do not realize that EVERYONE is at risk. So be wise and think before you act! ;)
2. While AIDS is a terrible disease, the people who contract this disease here in the US and across the globe suffer from serious stigma. Recognize that ANYONE can get it and that it doesn't speak to a person's character to be suffering from HIV/AIDS.
3. We can all do things to help, PERIOD, with pretty much everything that is going today. There are lots of things that you can do to help. And donating money isn't even the biggest thing. There are tons of organizations that you can volunteer with doing all sorts of things. People with HIV/AIDS not only need medical treatment but access to many different types of services. Most of all, many of them just need a smile, a hug and a supportive hand to help connect them to the people, services and organizations that can help them.
I apologize for not giving more info on how to help in the Cleveland area but Google is extremely helpful! ;) If I wasn't so 'like a dog' and grumpy I would totally give you a head start! I have faith though that you are very capable. :)
______________________________________
I have a little more holiday cheer to send your way. I usually lose count of all the things that make me smile throughout the day but this is one I will be referring to throughout the day. Enjoy!: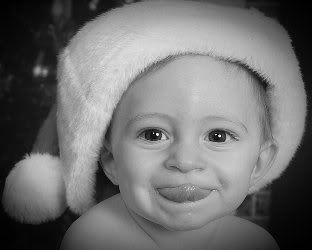 This is my nephew, I know he is soooooo adorable! He totally takes after me! :P
I will have a race report of sorts tomorrow and I will post what I had originally planned on discussing this weekend. Have a GREAT Friday!!!!